Good morning anipals and Happy Valentine's Day!
I just want to report that I made it through my vet visit without problems. I don't know why mom even made me go considering I am in perfect health! *Sigh* Whatever.
Well today in honor of Valentine's Day mom has put together a little project for your humans to do! Check it out!
Love, purrs, and Valentine's Day snuggles!

Valentine's Day Kitty Wand
Supplies:
*Make sure to keep an eye on your supplies for kitty intruders*
3 long pipe cleaners in desired colors
1 ball of yarn or string
3 colors of felt
1 pair of scissors
1 large needle
any decorations you would like to add to the wand… such as puff balls
Make sure that you always supervise your cat when playing with and making this wand. Do not leave the toy unattended for kitties enjoyment…as kitty might take advantage of this time to do something that kitty shouldn't do… like eat string.
1, Take your felt and fold it in half. Cut out a half heart shape.
Do this with all the felt until you get a good amount of hearts.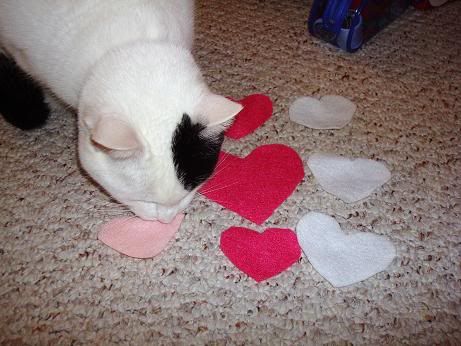 2. Thread the needle and poke it into the heart. Use the needle to pull the string through.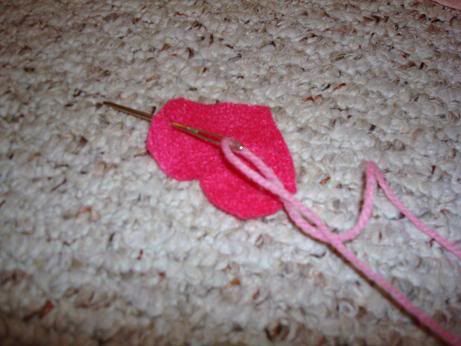 Once the string is through tie a double knot around the heart.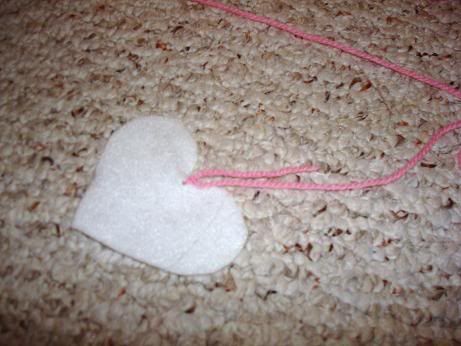 3. Do this with all the hearts until you have all of them hanging on a string. Vary the length of the strings if you like to make the wand more exciting. 🙂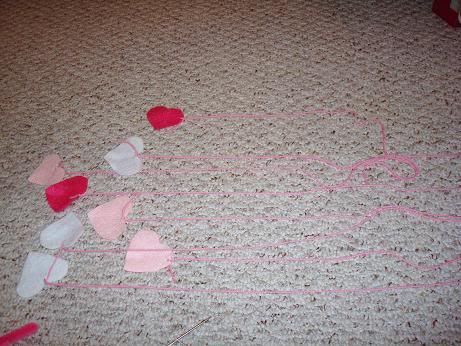 Put aside for now. Again… watch for kitty intrusions.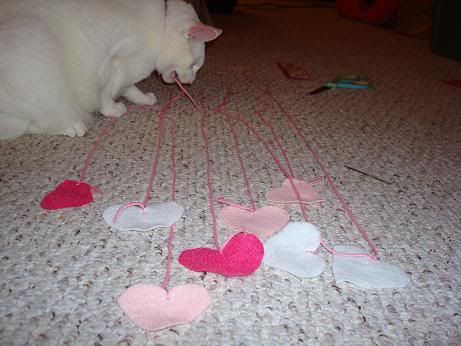 4. Take the three pipe cleaners.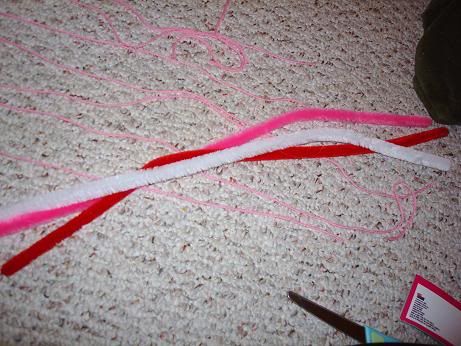 Braid them together until you have braided about 1/2 way to 3/4 down the pipe cleaners.
5. Take your hearts on strings and tie them around the pipe cleaner stick you have created.
6. Continue to braid the rest of the pipe cleaners.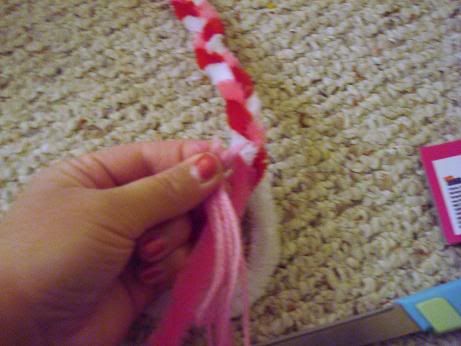 Braid any loose string from the knot you tied into the pipe cleaners so that you cannot see them.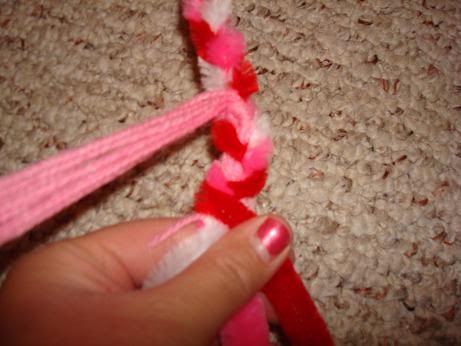 7. Once you have completed the braid, fold it over onto itself so that the string part is hanging off the end. Twist the pipe cleaners together.
8. VOILA! Kitty toy extraordinaire!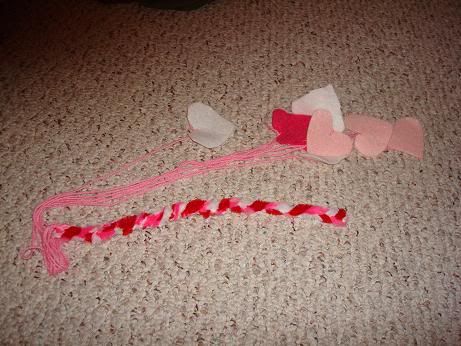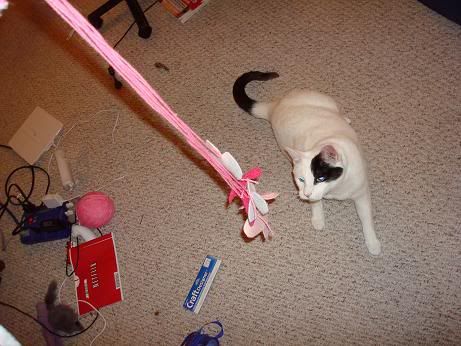 I hope you enjoyed this Valentine's Day Project! Remember to always supervise when your kitty is playing with this toy. It is only suitable for cat/human play and should not be left out.
Should it start to fall apart either fix it or replace it,as we want kitty to remain healthy and happy through their playing sessions!
If you would like other ideas check out our Valentine's Day craft from last year here.
Happy Valentine's Day everyone! As Lilly would have me say, MEOW ON!