Good morning anipals!
How are you all doing this fine FALL morning! I so love fall! It is the most beautiful season of all… and when the leaves start falling and the weather gets cooler I can see all the birds in the trees more! Wonderful! I love it!
So mom was in kind of an iffy mood today. You see… last night I just didn't feel like sleeping. You know how kitties have stuff to do in the middle of the night. There are spookies to hunt, stray food crumbs to eat, and a whole night of wonder to experience! So yeah, I just didn't feel like sleeping! Usually I do my own thing but LAST night, LAST night I wanted mom to hang out with me!
So I maaaayyyy have bothered her a teensy tiny bit. I just wanted to hang out, you know?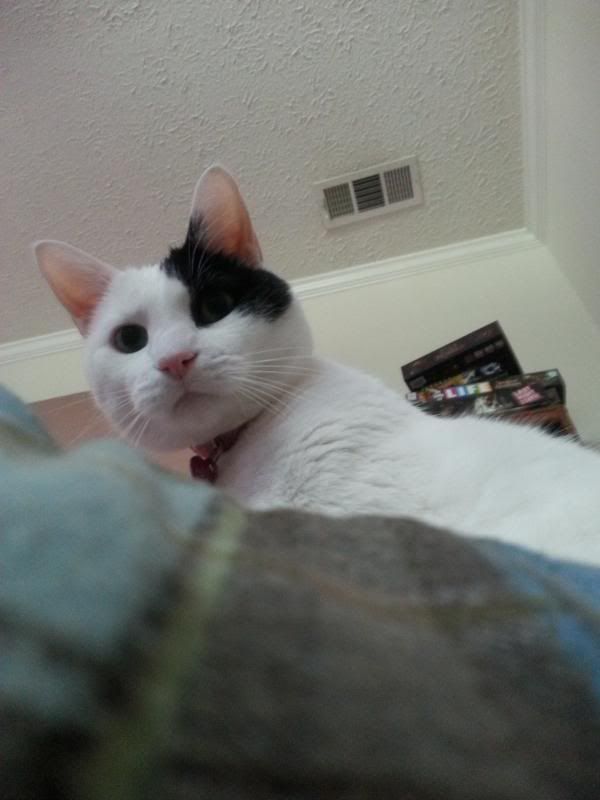 First I sat on her pillow and stared at her… because I didn't know if she was already sleeping. Her eyes were closed and everything… but you know how humans are with their fake sleeping so they don't have to feed us in the am! So I was just waiting… you know, incase she decided to wake up.
She didn't SEEM to be awake so I gave her a gentle nudge on the face with my paw. Just to tell her that hey, I was here, if she needed me. She didn't seem to respond to my paw and so I wasn't sure she felt it… so I did it again… and again… until she finally opened her eyes!
Finally! I knew she was up! At this point she was getting a little grumpy with me… I don't know why. I just wanted to hang out, you know? So she might have kicked me off the bed. Well… I decided I'd better play on my own for awhile… but I wanted to be sure that mom knew I was still there… you know… in case she wanted to hang out. So I decided to play with this crinkly bag on the ground. That way I was entertained AND she knew that I was still there! Just incase! Well… apparently she didn't like this very much.
So after I got yelled at for that I was getting a little annoyed. I mean, here I was trying to entertain myself and that wasn't even good enough for mom! So just to show her I was not amused I continued to sit on her pillow, stare, and give her a couple whaps on the face with my paw. You know… just so she knew I was still there.
This may have gone on most of the night… but really who's keeping track? All I know is just as the sun was starting to part over the horizon mom finally decided to get up. She gave me a mean look… I don't know why.
I was so happy when she was finally awake! Now we could play and boy was there a treat for us! There was a MOTH in the house! Can you believe it? A MOTH! How did that get in here?! I wonder if it was in here all night while I was trying to get mom's attention… oh well! At least I found it!
So I chased after the moth for a bit and I managed to make quite a nice snack out of it! After this I was pretty tired… but still hungry. So I stared at mom until she fed me.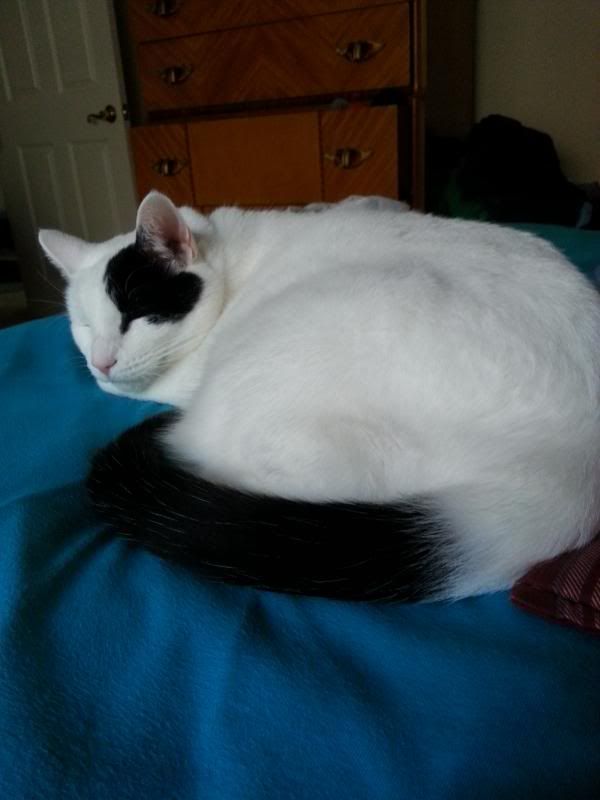 Then it was time for bed. I curled up in the corner and dozed off. Mom gave me a mean look before bed. I don't know whhhyyy. I mean… I just wanted to hang out, you know?
Sometimes humans are so weird. They just don't understand the things that we are trying to do for them. She doesn't even realize how long and tiring MY night was! I mean… she thinks it was all about her! What about me? I had to stay up ALL night trying to make sure she knew I was there! No appreciation! So anyways… I was super tired after all that so I decided to go to sleep.
Speaking of which… my eyes are getting quite tired right now. I have another evening of activities coming up so I best be getting on my way to take a snooze. I don't want to miss out on any of the events of the night time!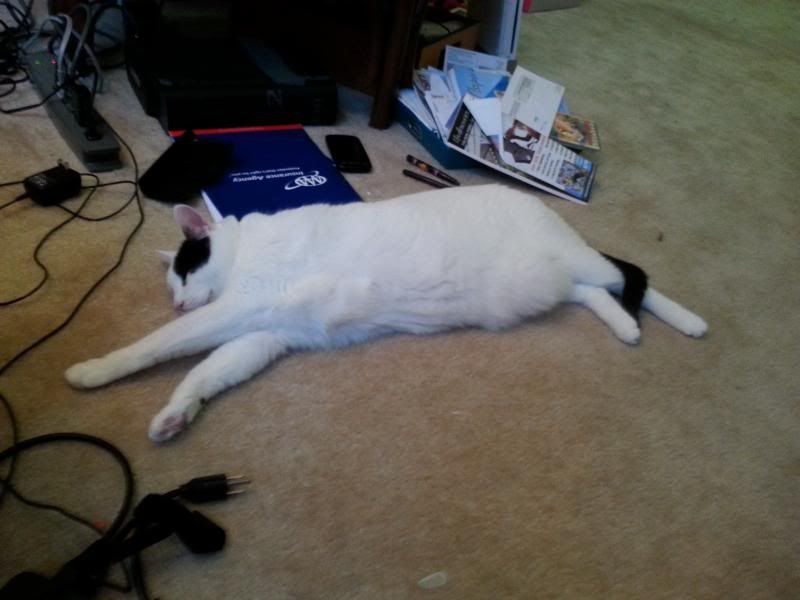 Love you all anipals! Happy Fur-iday!
Love,