I can't believe how long it has been since I last posted an anipal of the week! Isn't it crazy how fast time goes by? Well, needless to say, there are plenty of kitties in search of their forever homes STILL! Today we are going to meet just one of them!
Today I would like to introduce you to the beautiful kitty named Joy!
Joy is a beautiful light orange girl with long whiskers and an angelic face. I think she would be well suited for the pawparazzi… don't you? With a face like that who wouldn't want to adopt her? She is one year young and listed as a domestic shorthair… like me! Well… breedwise… I am just a taaadd bit older. 😉 Here is what the Atlanta Pet and Rescue Shelter has to say about our girl Joy!
Joy is a perfect name for this cute kitty. Joy is a momma kitty who came to us with 5 babies that are currently in foster care waiting to get bigger. In the meantime, Joy is looking for her forever home. She enjoys being petted and is quite affectionate. Joy loves her scratching post, playing, getting petted and grooming her new friend Gypsy. She is quite playful and has a bit of her own kitten spunk in her. She's great about using her cat scratchers and interactive toys are her favorite because a person is on the other end!
Isn't she lovely? Not only a lover but she has history as a former mama cat! That means love! If you are interested in Joy e-mail cats@atlantapetrescue.org as Joy is currently in a foster home! Let's spread the word about this wonderful girl and get her adopted ASAP! Efurrybody deserves a forever home! <3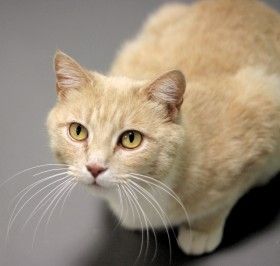 If you would like to see more information on Joy, you can visit her page at http://www.atlantapetrescue.org/animal/joy . Don't have space in your home but still want to help? You can always sponsor her and therefore provide for her care during her stay until she does find her forever home!
Until next week anipals, let's spread the news about Joy and all the other wonderful pets who are in need of a forever home! Pass on the word and let's get these kitties adopted!
Love and purrs to you my most lovely anipals!
Lilly